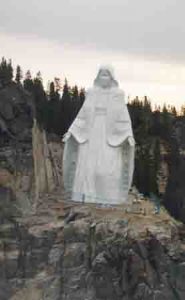 Butte's Piss & Moan Runners sponsor two weekly group runs during the warmer months and periodically during winter. 
Tuesday evening runs are on roads and trails, depending on the time of year. These runs are for fun. 
Saturday morning fun runs are done on various back roads and trails, including those that climb to Our Lady of the Rockies.
Our Lady of the Rockies is a 27-meter statue of the virgin Mary, mother of Jesus, that sits atop the Continental Divide overlooking Butte, Montana. It is the United States' largest Madonna. The statue was built by volunteers using donated materials to honor women everywhere, especially mothers. The base is 2,600 meters above sea level and 1,000+ meters above Butte. The statue is lighted and visible at night.
The statue was first imagined by local resident Bob O'Bill. In 1979, O'Bill's wife was seriously ill with cancer, and he made a promise in Mary's name that he would create a Madonna in his yard if his wife recovered. When she did recover, O'Bill faithfully began the project with his fellow workers who gradually changed the initial vision to a mountain top statue nearly the size of the Statue of Liberty (33 meters).
Work on the project began in December of 1979. Volunteers spent many summer evenings blasting a road to the top of the Rockies, sometimes making only a few meters progress in a day. The base of the statue was poured in September of 1985 with 400 tons of concrete. In December 1985, a National Guard Sky Crane Helicopter lifted each of the Lady's four sections into place.  National Guard and Army Reserve personnel worked with teams of civilian workers to place her final head section on top. Below in the valley, thousands of watchers, celebrated by honking their car horns and ringing church bells. It was our town's version of joy in Who-ville.