---
---
Wulfman's CDT-14K
---
To register, click the RunSignUp icon shown above.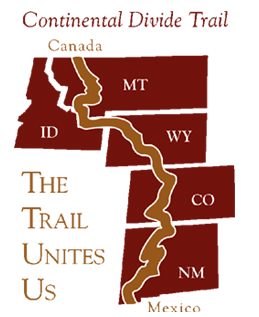 Every continent except Antarctica has a continental divide. In North America the divide runs from northwestern Canada along the crest of the Rocky Mountains to Mexico's Sierra Madre Occidental, and it is generally the line that divides the flow of water between the Pacific Ocean and Atlantic Ocean.
In 1968 a federal plan for the Continental Divide National Scenic Trail (CDT) was mandated, and today, construction of the CDT is estimated to be 85% complete.
The 14 Butte-iful kilometers along the CDT between Montana's Homestake and Pipestone passes in Beaverhead-Deerlodge National Forest are completed, and that section offers scenic vistas with majestic rock formations. This race along that route celebrates the trail and the memory of one of its greatest local proponents — the late John "the Wulfman" Wulf, who was the God Father of Butte's Piss & Moan Runners. The race is run on Summer Solstice Saturday, the anniversary of the Wulfman's last group run.
Race proceeds are used to help build and improve trails in southwest Montana.
We Piss & Moan Runners promise our best in creating a race experience that is challenging, memorable and fun for runners of all ages and abilities!!
2021 Race Informational Emails
2021 Bus Assignments and Start Times
The Wulfpack is looking forward to hosting you on June 19, 2021. Information regarding registration updates, parking, directions, the amazing trail, and porta-john location is provided below. There will be additional informational posts over the next few days, and they will all be posted on our website http://buttespissandmoanrunners.com/?page_id=211
First things first, let's address registration, cancellations, and estimated time. We do not keep a waitlist, but we allow cancellations to be filled by other runners. If you are unable to race, please cancel your registration before midnight on Monday, June 14, 2021. Although the partial refund deadline has passed, this opens a space for another runner and prevents us from seeding you and waiting for your arrival. Cancellations may be e-mailed to this address, or through the RunSignUp website. We seed runners on Tuesday, so no need to notify us if you learn you cannot run after Tuesday has passed.
If you need to change your estimated time, use the RunSignUp website. For perspective, the fastest times on this course are just under an hour. That is smoking fast and hasn't been done for years. Remember, this estimate dictates where you are seeded at the start. If you are now feeling a little nervous about your estimated time, login to RunSignUp and go to your Upcoming Events / Manage Registration / then choose Questions. Modify your time, then check Update Responses. The deadline for modifying estimated time is also midnight on Monday, June 14, 2021. https://runsignup.com/Race/MT/Butte/WulfmansCDT14K
To find Wulfman's race site, exit I-90 at Homestake Pass, Exit #233. Follow the signs and the directions of our volunteer parking attendants to designated parking NORTH of I-90. There you will find posted start times and bus assignments. There will be volunteers distributing packets with your shirts if ordered, and first 50 gifts.
Your race number will be given to you on your assigned bus. If you intend to get a ride to the start separately, you will need to track down your race number. The bib numbers not passed out on the bus will be collected at the gear truck near the start.
Do not park near an I-90 entrance or exit ramp at any time. Our relationship with the highway department depends on your cooperation. We use the south side of I-90 near the starting line for emergency vehicles and other needs. Please cross to the north side of I-90 to park.
The section of CDT you'll be traversing is currently clear, but there is always a chance that trees fall. Conditions are subject to change.
The legendary Wulfman owned his own miniature "honey bucket" toilet and he rarely traveled far without it, but we don't expect you to match his high standard. There will be porta-john's at the start, at the finish, and in Homestake's north parking lot. Remember that our Golden VIPs may cutdirectly to the front of the bathroom lines. Homestake Lodge will also be equipped with porta-john's and a handwashing station for the post-race picnic.
We would like to take this opportunity to thank a few of our sponsors. This event would not be possible without the help of fine, local folks such as those at Northwestern Energy, Hoffman's R&M Services and Excavation, and U.S.F.S. Beaverhead Deerlodge National Forest. Their generosity and cooperation is greatly appreciated.
BIB NUMBERS & BUS SHUTTLE
Your race number will be provided to you on your assigned bus that will take you from Homestake Pass to the start at Pipestone Pass/Harding Way/Hwy 2 (names are interchangeable). In typical race fashion, your number should be visibly fastened to your clothing. We use bib timing chips, so please do not damage the chip when attaching.
Busing assignments and exact busing schedules will be e-mailed on the evening of Wednesday, June 16 and hard copies of the lists will be posted near the parking area on race morning. Who rides which bus will be determined by the seeding of runners.
The first of five bus shuttles will arrive at 7:30 a.m. for immediate boarding. It will depart for Pipestone at 7:45 a.m. The four remaining shuttles will depart every 15 minutes thereafter. The bus ride to the unloading zone will last ~20 minutes, leaving you with at least 30 minutes to warm up and make your way to the starting line. You will be able to identify your bus by its numbered sign (1 through 5). Please do not attempt to ride an earlier bus, because switching buses would cause you to miss getting your assigned race number. You would also occupy a spot that is reserved for someone who is scheduled to start the race before you. We will have a gear truck in the new parking area that is across Hwy 2 from the race start. You may bring a gear bag for items you want prior to starting but don't want for racing. Your gear bag will be shuttled back to the finish.
STARTING LINE
Wulfman's CDT-14K uses a time-trial format to help avoid crowding on the narrow trail. Each of you will be seeded with a starting time based on your self-predicted estimated time. "Hares" go off first with "porcupines" following to minimize the need for passing.
Your race number will double as your starting time. The first runner to start will have the number "9:00" and that rabbit will set off at exactly 9 a.m. Another runner will start every 10 seconds thereafter. If your number reads "9:18:40" it means that your race time will start ticking at exactly 18 minutes and 40 seconds after 9 a.m. The clock will run whether or not you are physically in the starting chute. If you miss your start time, you may start as soon as you can access the trail without interfering with other runners. We will not attempt to correct times for late starters regardless of what your watch records.
250 runners will be on the trail within 45 minutes, which means the process moves swiftly. You will be instructed to line up in race number order. You should be near the start, with eyes and ears wide open as your start time approaches. You go from "in the hole" to "on deck" to "at bat" all within 20 seconds. A list of start times will be available a few days prior to the race. The same lists will be posted on the bulletin board in Homestake's NORTH parking lot on race morning.
At the starting line you will be cued by a display clock that will be counting off the time of day, and at the same moment when your start time shows on the clock, your official start signal will be produced by an automated device that beeps and flashes green. Pay attention to the runners starting before you so that you understand what you should do and when you should do it.
DURING THE RACE
If seeding has placed you ahead of someone who is ready to pass you, let him or her safely pass by. If you choose to be plugged in while touring the CDT's tranquility, then please keep one ear free and stay alert for runners needing to pass. If you find you need to pass a runner and they have not moved aside, call out on which side you are passing and move through. This is a single track trail, but passing should not be cumbersome for any runner.
AFTER THE RACE
After you pass over the finish mat there will be a few refreshments, a timing tent, and if you did not pick up your shirt prior to racing the packets will be near the finish. Don't forget to retrieve your gear bag.
Again, this event would not be possible without the generosity of our sponsors. We would like to take this opportunity to show our gratitude to these local businesses: Metals Sports Bar & Grill, Homestake Lodge, and Backcountry Horsemen. Their support is appreciated!
Email #3:
Below you will find useful information regarding seeding, trail etiquette, runner accountability, and on-course assistance. Prior informational posts may be found at our website: http://buttespissandmoanrunners.com/
Our Forest Service asks us to remind runners that trail etiquette requires you to yield to horseback riders. The trail is not closed during our event, so you may encounter other users. If you meet horseback riders, you must stop and move off to the downhill side of the trail to not scare the horse or cause potential safety issues.
Although the Wulfman was rarely seen without his faithful four-legged companions, he would have secured his dogs away from the runners at an event like this. Dogs are not allowed in this race.
Be safe and accountable if you do not finish Wulfman's CDT-14K. No matter which end of the trail you exit, you must check in your race number with a race official so that we know that you made it out. Otherwise we will notice that you are missing, and we will form a search party to look for you.
Please do not venture away from the trail. The trail follows a relatively uncomplicated single-track route and your way will be clearly marked, but it is still possible to get lost or injured. You may need assistance while on the course. There is one aid station and it will be equipped with water, minor first aid, and a cell phone. To eliminate unnecessary waste, please carry a water bottle or other vessel if you are certain you will need water. The aid station will have cups, but the fewer used the less the waste.
There will be additional course monitors floating to places where they are most likely needed. They will be able to contact an ambulance service if necessary. There will be "sweepers" riding the trail on horseback a half hour or more after the last race participant begins, and they will offer assistance if needed.
In the days before this trail existed, the playful Wulfman explained to his "followers" how to successfully navigate the long version of the route, then he secretly veered onto a shorter route. Once at the top, Wulfman rested and waited to surprise his faster companions. The Wulfman could be sneaky, but you can't. You will not be listed in results if you are witnessed leaving the course and gaining an advantage over your fellow runners. Should you find that you have mistakenly left the trail, you must return to the point that you got off course before proceeding. To do otherwise is absolute grounds for disqualification, and we know from experience that this type of DQ is unpleasant for all involved.
Again, this event would not be possible without the generosity of our sponsors. We would like to take this opportunity to show our thanks to more fine local businesses such as Wagner Nursery and Landscaping, Butte Sunrise Kiwanis, Headframe Spirits, Marathon Machine Works, MT. Broom and Brush, and Water and Environmental Technologies. Their support is appreciated!
Email #4:
Here you will find your race start time and bus assignments.  Please ride the correct bus so you can easily get your race bib.  We are not requiring masks on buses, but we encourage anyone feeling uneasy about riding the bus or anyone who has even the slightest sniffle to wear a mask.  Let's make this a healthy event where everyone enjoys an exhilarating run on this beautiful section of Continental Divide Trail.  
Wulfman's CDT-14K will be followed immediately by a picnic, prize drawing, and awards ceremony that you will not want to miss. It all happens at Homestake Lodge, beginning as runners arrive from ~11 a.m. until ~1:00 p.m. Please bring along a clean cup or bottle for your picnic beverage to eliminate some of the waste. There will be a handwashing station at the lodge, and we will ask you to wear a glove (provided) when selecting your picnic items.
Carpooling is encouraged for the 3 mile drive to Homestake Lodge. Lauren and Mark Thieszen, the new owners and operators of Homestake Lodge support the event by allowing us to host our picnic in their beautiful facility. Most of their parking for a crowd of our size is road-side, so the fewer cars there the better.
Directions: Drive the gravel road that is parallel to this year's starting line (FS 240/Radar Creek) SE from Homestake Pass until you see signs, cars, and a road to your right that leads to the Lodge. Golden VIP's will enjoy premium parking at the Lodge. Homestake Lodge's wooden pavilion will provide shade for seating and eating. Picnic fare will be served from the lodge.
Preliminary race results will be posted ~11 a.m at the picnic, about the same time that runners begin to arrive. The timing crew will compile the results and send from the finish line to Homestake Lodge. The awards ceremony will start around noon with awards and random prizes given out as you feast on complimentary picnic fare. You must be present at the awards ceremony to win any prize or award. We do allow double or even triple "dipping" for awards. For example, if a 50 year old man won the race outright, he would be awarded the first place prize for men in the overall, 40-50 year age group, and possibly also the age-adjusted category.
Again, this event would not be possible without the generosity of our sponsors. We would like to take this opportunity to acknowledge and thank more fine local businesses such as Newland & Company PC, 5518 Designs, Quarry Brewing, Butte 100, and Jefferson Valley EMS&R. Their support is appreciated.